Make your trading experience easy and hassle free. Place orders from your mobile phone or desktop PC.

COMPLETE ONLINE SHARE TRADING
We provide complete online share trading service including opening BO account, deposit, withdrawal, order placements and excellent customer support.
MARGIN LOAN
If you are a confident investor and want extra cash for buying shares, we can provide you margin loan through our brokerage houses. When you get margin loan, do not forget to monitor the market closely with Smarter Stock to reduce your risk exposure.
REAL-TIME PORTFOLIO
Our online share trading platform presents your real-time portfolio directly from the back-office system. You can keep an eye on your portfolio from anywhere, anytime.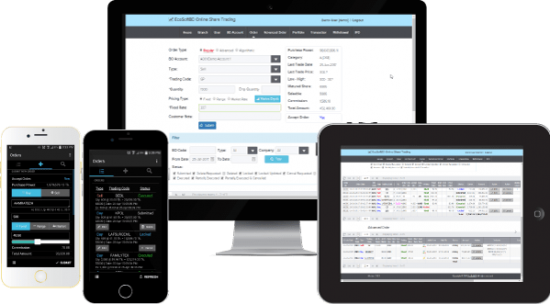 REGULAR ORDER
Regular order is the quickest way to place buy/sell orders.
Whenever you decide to buy or sell, just log in to your account and place a regular order with your desired price and quantity. No matter whether it is market time or not, you will see the order is submitted to our system. Our system will place the order as soon as the trade begins and will notify when it is executed.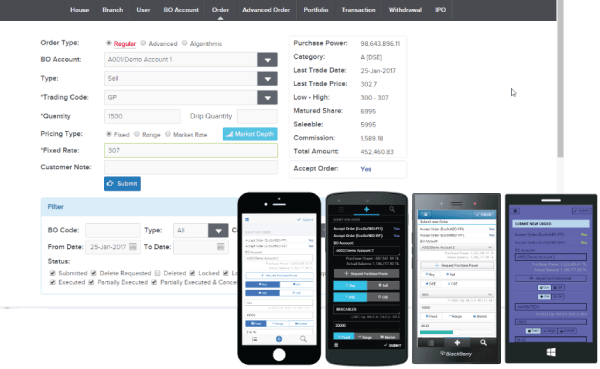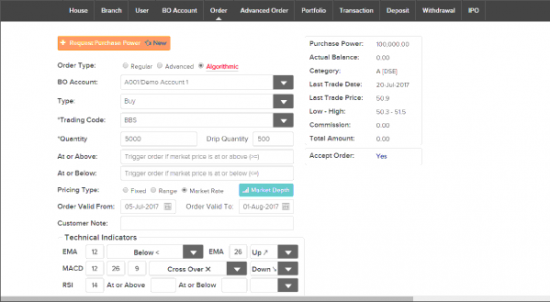 ALGORITHMIC ORDER
Automatic order submission based on popular technical indicators.
If you want automatic order placement based on different technical indicators like EMA, MACD, RSI, then the Algorithmic order is the right option for you. Place an order with your desired order trigger criteria such as MACD crossover or RSI below 20. Our system will automatically place the order when the condition is met.
ADVANCED ORDER
Automatic order submission when the share price goes below or above your desired price.
Do not waste time checking share price every moment when you want to buy/sell at your desired price. Rather, place an advanced order and tell at what price you want to make a trade. Our system will automatically place the order when the share price goes below or above your set price.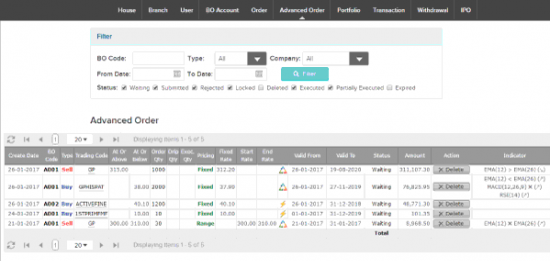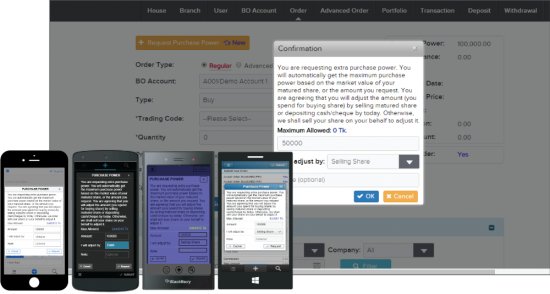 AUTO PURCHASE POWER
You can request for extra purchase power during trade hour without calling us. Just adjust the balance end of the day by selling shares or providing a cheque.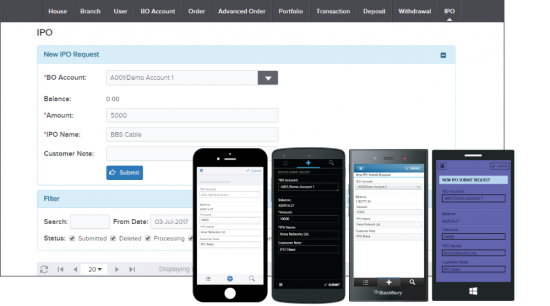 SINGLE CLICK IPO
You can submit IPO applications with a single click for unlimited BO accounts. This is super easy and quick. IPO refund will automatically reach to your BO account if you do not win share allocation.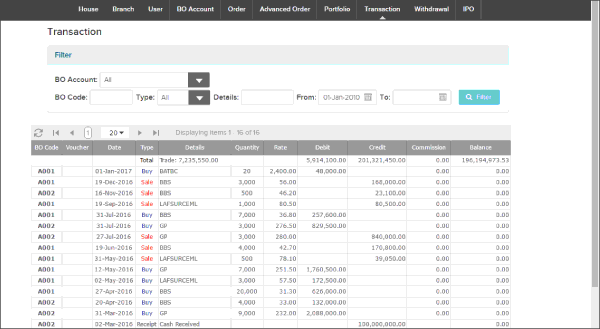 ALL IN ONE PLATFORM
ONLINE DEPOSIT, WITHDRAWAL AND TRANSACTION STATUS
You can withdraw from and deposit money to your BO account completely online. You do not need to come to our office physically. For depositing money, just deposit cash or cheque to our designated bank account and upload a photo of your deposit slip.
PORTFOLIO
Quickly sell your Portfolio
Sometimes you may miss opportunities if you wait for one more second. When you see an opportunity of making a good profit, don't wait, just quick sell from your portfolio.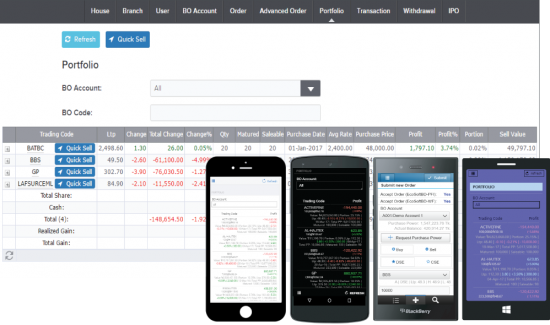 NEW B.O. ACCOUNT OPENING FROM ANYWHERE.
You can open BO account completely online. Send us your Voter ID copy, passport size photo, bank statement or cheque book photocopy and duly filled BO form. We will do the rest.
FREE LINK ACCOUNT TRANSFER FROM ANY BROKER HOUSE.
You have a BO account with other house, and you want to do online trading with us. We can transfer your BO account completely free of cost.
Customer Feedback
"I was really tired of calling my current brokerage house to place buy/sell orders. I lost many opportunities because they were late in placing orders. I heard about EcoSoftBD IT Online Share Trading platform from a friend and transferred my BO account. From that point in time, my trading experience got drastically changed. I can place orders anytime, and it is executed during the market hour immediately. The latest Advanced and Algorithmic order features are super exciting."
"As a busy executive, I do not have time to go to a brokerage house to open BO account, withdraw and deposit fund. I always look for secure, modern and easy-to-use online solutions with high-quality customer support. I am really amazed that I get world class online trading solution and support from EcoSoftBD IT Ltd."
"Being a frequent trader and a technical analyst, I was looking for fast, accurate and automated trading solution. I am a Smarter Stock user for a long time, and it helps me to do fundamental and technical analysis. Now I have transferred my BO account to EcoSoftBD IT and can place orders anytime, automatic or manual. I can also place orders from Smarter Stock which saves me a great deal of time."